This week I just dressed Mom and Daughter......what little girl wouldn't love to get dressed up and get her pictures taken with Mommy???
Red, white and black are a classic look, that I don't think will ever go out of style. My favorite combination is mostly black/white with just a hint of red, using accessories. A big chunky red bracelet, a thin red belt, or (as seen in this example) a fun red hat and shoes.
Mom's outfit is very simple but has gives a great statement with her stylish shoes, and Daughter's dress is more bold and looks really cute paired with a funky over-sized hat. So fun!!!
But the other thing I love about this kind of combination is that your accent color doesn't HAVE to be red! It would look just as cute with a bright blue, or a hot pink, or even a warm yellow. It's so versatile!!!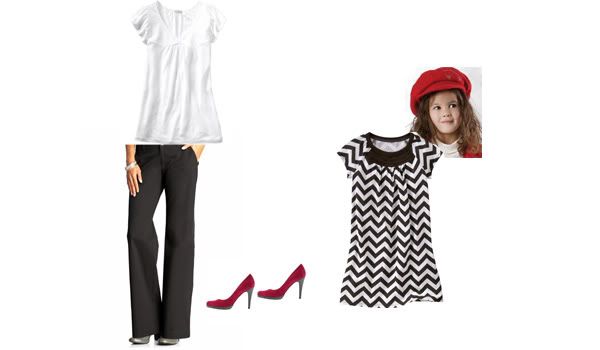 (Mom's outfit and Daughter's dress are from Old Navy, Mom's shoes are from
Piperlime
and Daughter's hat is from
Baby Marmalade
.)