I've had a great response to the free maternity, newborn and birth sessions! But if you are still interested, let me know and I will fit you in! I ♥ me some babies!!!! One of the questions that I got regarding a maternity session was about clothing choices, so I thought I would use this "Wednesday's Wardrobe" to talk about clothes for a maternity session. With a maternity session, it's always fun to switch things up a bit and do some shots with various outfits. So don't be afraid to bring a few clothing changes!
One really nice, easy suggestion is a "Basic & Relaxed" look. Think yoga pants and a fitted t-shirt. Remember, the point of a maternity session is to show off your beautiful belly. Years ago (even just a
few
years ago) the style for maternity clothing was to try and conceal a woman's pregnant belly. But recently the style has become more comfortable with showing off the belly, and I love it! You don't have to actually SHOW the belly, but wear clothing that doesn't purposely hide it. Wearing a classic fitted tee will look great in pictures, to accentuate your baby bump!
Another really fun combination is a cute tank top or fun camisole, to add just a bit of sexiness without making you feel uncomfortable. Pair that with a low-waist blue jeans worn under your belly, and you'll look super sexy but still comfortable.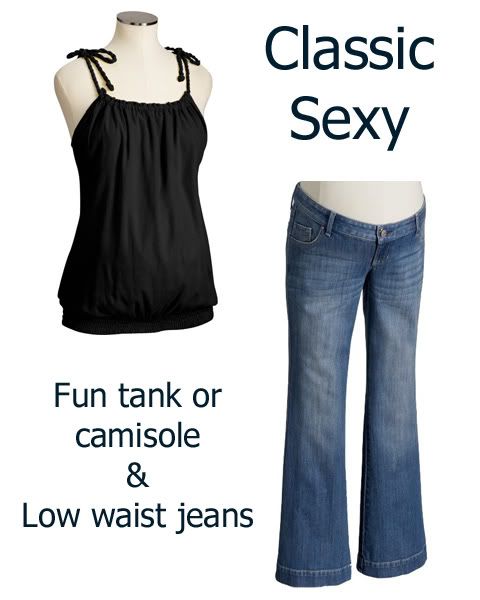 If you want a bit dressier look for your pictures, there are lots of fun and beautiful maternity dresses and skirts out there. I tend to prefer solid colors for maternity photos so that the focus is on the belly, but you could of course wear a funky patterned dress as well. But if you do choose a solid top and a skirt or a solid dress, you can always add a pattern or a punch with some fun accessories, like a scarf.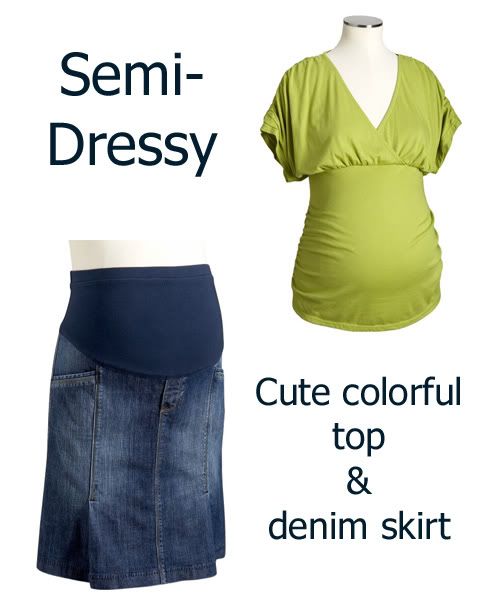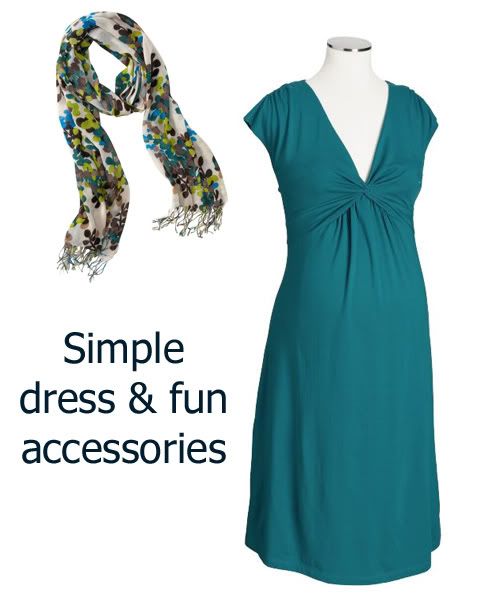 This is one of my favorite looks for maternity pictures.....a classic button-down shirt and jeans. But the trick to this combination is that the shirt is only buttoned about halfway down, leaving the rest open to reveal your baby bump! And don't worry about finding maternity jeans, just throw on your pre-pregnancy jeans and leave them unbuttoned below your belly. Even those women who are very modest in their everyday clothing choices should not feel uncomfortable showing their belly in their portraits.
For several of these outfits, bare feet will be perfect. (If your session is outdoors you can always wear some flip-flops or sandals and then take them off for the pictures.)
So there are some ideas for maternity session clothing! I hope that helps someone, and remember to contact me if you are interested in one of the FREE maternity, newborn or birth sessions.
(all of these items were found at Old Navy)