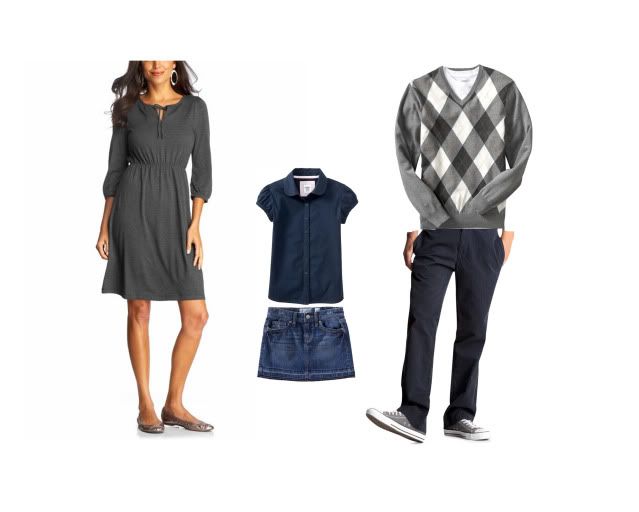 I'm late again, I know. We got back from the cabin yesterday, so I technically could have posted in time, but I was so tired I figured it could wait until today.
So, on to the clothes! Navy and gray are 2 of my very favorite colors together. I think they look so polished and so classic. So when I saw this cute dress at Old Navy, I knew I wanted to use it for Wednesday's Wardrobe. It might not look cute on everyone (me included!) but like everything I post, you can use it as an idea to find something for your body type.
Usually I use a pattern or the more busy piece for one of the kids, but this time I thought Dad needed to be the center of attention a little bit. Then for the little girl I kept it very basic with a cute navy shirt and denim skirt. So I hope you enjoy this combination!
Also, I'd like to maybe try something different for next week's Wednesday's Wardrobe. I want to try and dress your family!!! If you have a piece of clothing at home or something you've found online that you would like me to try and include, or if you just want to give me a color combination, email me at
jami@lifeinmomentsphotography.com . Take a picture of the item, or send me a link to it, or tell me what color combination you want used in your family's wardrobe, and I'll try to put together a wardrobe for your family. Fun!!!!